On Sunday, September 24, AGRI FARM exhibited on Austria's largest agricultural exhibition field, the BETAEXPO in Tulln.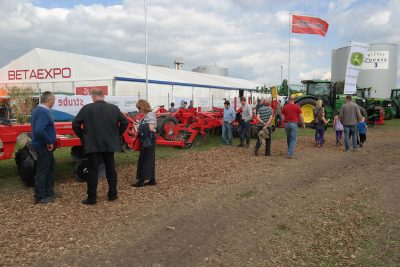 In dry weather, numerous tillage equipment from the extensive product range were presented:
In addition to the established EUROPLAN II precision seedbed cultivator, the universal applicable EUROCULT II stubble cultivator, the 4-bar AGRI FLEX heavy cultivator, SOILBREAKER 2-layer-subsoiler and the heavy AGRI DISC compact disc harrow, the HYDROROLLER Cambridge roller was presented as this year's new development.
The roller impresses with its high dead weight, heavy cast rings with 550mm diameter and the compact, solid construction.
The Cambridge roller HYDROROLLER makes it possible to grow seeds successfully by rolling loose soil, because the solidified soil pulls the moisture up to the seed.
Furthermore, large, hard and dry clods are crushed and thus the drying out of the soil is prevented.

There was great interest at the AGRI FARM stand around the proven tillage programme:
On the very frequented exhibition with a total of 4,000 visitors, numerous informative discussions could be held with many interested parties.